A hotel for couples who dream of getting married in Cancun, but looking to escape the hustle and bustle of the hotel zone, Dreams Playa Mujeres may be just what you would like for a Caribbean wedding.
THE HOTEL
The hotel is located in Playa Mujeres, which is the continental zone of the municipality of Isla Mujeres. It is a very exclusive area, like a gated community of resorts and luxury hotels, about 45 minutes' way from Cancun International Airport and 35 minutes away from nightclubs.
From the white, fine sand beach, you can see the famous Isla Mujeres on the horizon, one of the most famous tourist spots in Cancun.
The Dreams Playa Mujeres Golf Spa Resort is a hotel designed especially for families, with activities and entertainment for all ages.
With so many years of experience in wedding advisory, we know that one of the main concerns of Brazilian couples when choosing the hotel for their destination wedding, in addition to having beautiful areas for weddings, is that it is a complete and quality hotel to meet the needs of each guest. By choosing Dreams Playa Mujeres, this is one less concern!
Upon arriving at the lobby, we have a beautiful panoramic view of the swimming pools and the Caribbean Sea in the background.
The rooms are beautiful, spacious, with light colored, very clean décor. All 502 rooms are equipped with a minibar included and restocked every day, a Nespresso coffeemaker, a hot tub on the balcony and other amenities so that your wedding trip in Playa Mujeres is filled with comfort and many special moments.
This hotel has taken the concepts of entertainment and fun to a new level! The resort has a waterpark for children, another waterpark with a waterslide for all ages and, for relaxation, a lazy river – for Preferred guests only. Just grab your float and let the calm current carry you!
Next to the lazy river are the rooms in the Preferred Club Two Bedroom Vila category, which are suitable for large families, couples with three or four children. These suites have a king-size bed and two queen-size beds, amenities and access to areas exclusive to Preferred guests.
In addition to waterparks, we also find three swimming pools, two of which have an infinite edge with a wonderful view of the beach and six Jacuzzis.
For golf lovers, just five minutes away from the lobby is the Playa Mujeres golf course. The hotel offers roundtrip transportation.
Aerial View - Dreams Playa Mujeres
Pools - Dreams Playa Mujeres
Lazy River - Dreams Playa Mujeres
Presidential Suite with Private Pool and Ocean View

GASTRONOMY
All hotel bars have premium drinks from internationally known brands, including beach and swimming pool bars. There are several options of beers, wines, spirits and drinks.
Cheers' golden tip! If you have a favorite drink brand, always ask the bartender for the brand and not the type of drink, for example: when ordering for a gin and tonic, ask for Beefeater and tonic, or a Tanqueray and tonic.
The hotel has a buffet restaurant, open for all meals, and a further six specialty à la carte restaurants. There are several options to choose from, French, Mediterranean, Asian, Mexican, seafood…
But what attracts the most attention of Brazilians is the restaurant inspired by our barbecue rotisserie. Our groups always insist on having dinner at Gaucho, as it is called, at least one of the nights to see if the Mexicans have managed to reproduce this format of the traditional meal of our country.
For quick meals and snacks during the day, the hotel created That's a Warp, a snack bar with a very cool concept and widespread in the United States.
The sandwiches, wraps, fruits in the glass, salads and juices are packaged and exposed so that each guest can choose what they want to eat, or it is also possible to ask for the sack to be assembled on the spot.
The delicious difference of American snack bars, is that at That's a Wrap you don't pay anything more for your snack! Just take what you want and continue enjoying the day in this sensational hotel.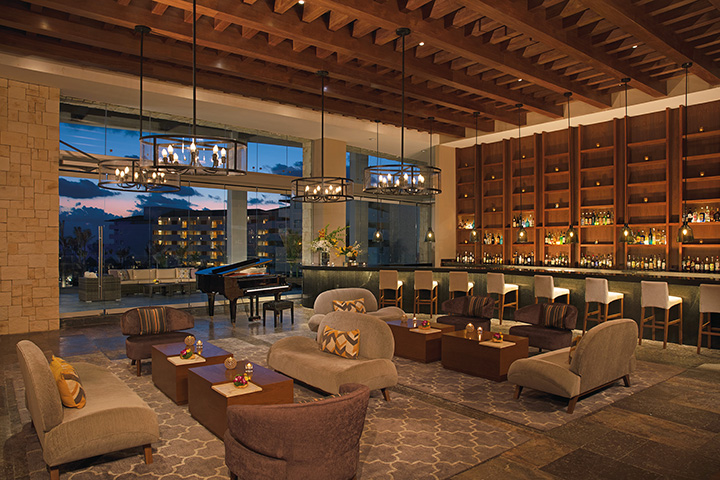 Lobby Bar - Dreams Playa Mujeres
Seafood Restaurant - Dreams Playa Mujeres

THE SPA
The resort also has a spa with a spacious beauty area, where brides, mothers, bridesmaids and guest can get ready for the wedding day. Services are offered at an additional cost and must be booked in advance, but don't worry! With our advisory service, there will be a person to assist with all these reservations.
In addition to the beauty salon area, the spa has a bride's suite, which can also be contracted and reserved for your big day!

WEDDING AT DREAMS PLAYA MUJERES
There are several options for beautiful wedding areas here at Dreams Playa Mujeres, for all formats and types of wedding: elopement wedding, mini wedding or larger weddings. Each of them will bring a different charm to your luxury wedding!
Most couples who dream of getting married in the Caribbean imagine a beautiful ceremony on the beach, something very relaxed and at ease, with their toes in the sand and a beautiful blue sea in the background. If this is your case, Dreams Playa Mujeres has a beautiful wooden gazebo on the beach, or you can also set up a custom gazebo, just the way you imagine it.
Now, for those who like the idea of having the beach in the background, but are not so excited about the idea of sand, there is a hotel suite where you can perform extremely private ceremonies for mini weddings of up to 60 people. It is an incredible suite, very spacious and complete, with separate areas, outdoor area and swimming pool, where the ceremony is held.
We recommend that couples who want to get married in the suite, book it for at least two nights – the eve of the wedding and the wedding day. Thus, the couple takes advantage of this spectacular suite to receive some people and the bride can also dress up directly in the suite, without having to go through the hotel after doing hair and makeup.
For cocktail and dinner, our suggestion is for Terraza Mermaid, a very private and exclusive area, where the group can dance and have fun away from the circulation of other guests.

ADVANTAGES OF HAVING YOUR WEDDING AT DREAMS PLAYA MUJERES
Many couples come to us for the wedding in Cancun, but we usually identify the possibility of other regions and hotels that serve as well as the Cancun hotel zone region.
In addition to all these advantages that we show, all guests over 18 years old can enjoy the structure of Secrets Playa Mujeres, a resort of the same hotel chain, located next to Dreams.
This means that they will have access to several other options for restaurants, swimming pools, night shows and also the hotel's club – it is a great option to continue with the wedding celebrations until a little later while taking advantage of the all-inclusive structure.
Perhaps now your dream of getting married in Cancun has become a dream of getting married in Playa Mujeres, and with the help of Cheers, it will become true!
Isis e Fernando Wedding - Photo: Rafael Serra
Isis e Fernando Wedding - Photo: Rafael Serra
Isis e Fernando Wedding - Photo: Rafael Serra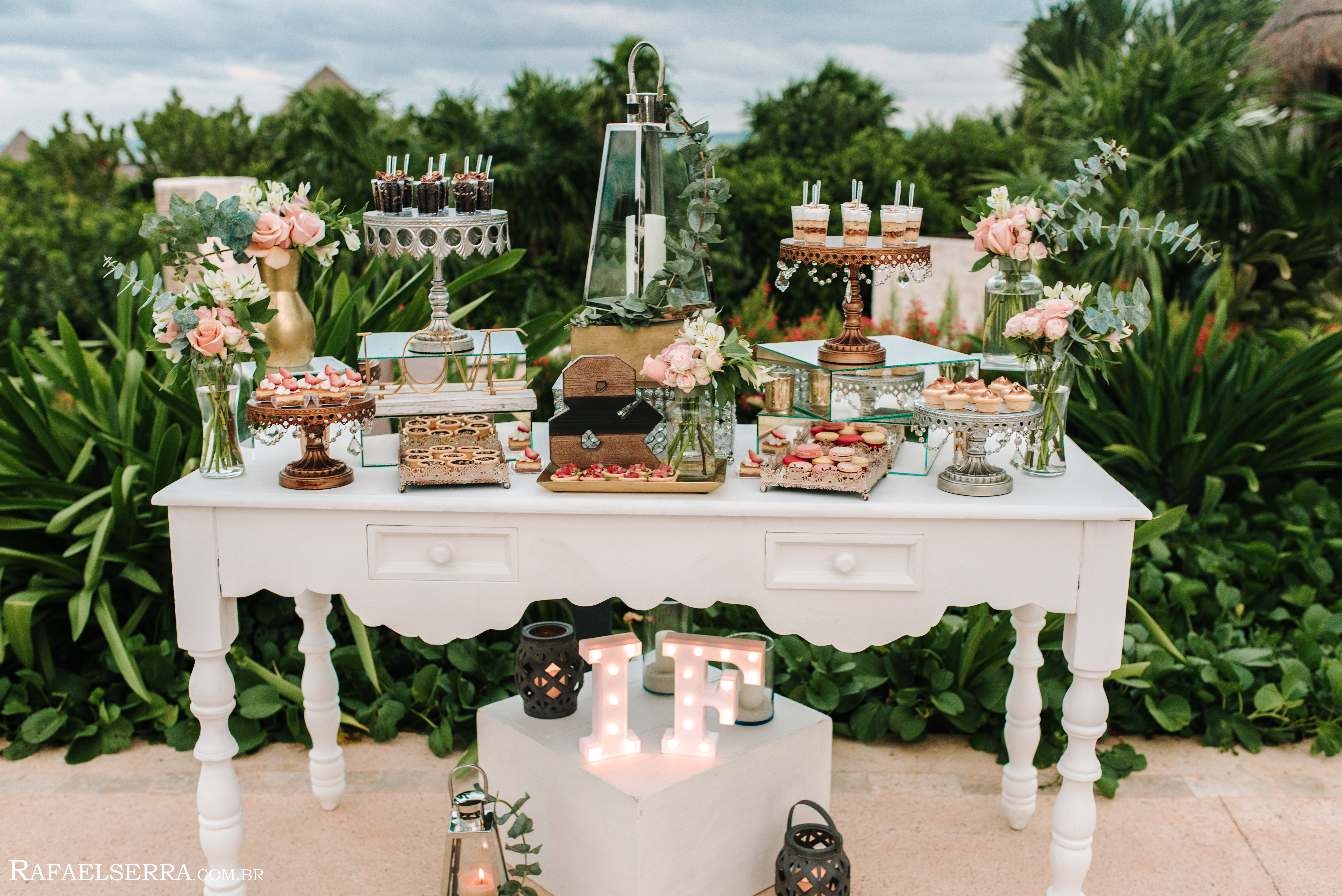 Isis e Fernando Wedding - Photo: Rafael Serra
Isis e Fernando Wedding - Photo: Rafael Serra
Presidential Suite Gazebo - Dreams Playa Mujeres
Text written by Victoria Viera - Event Analyst